The Immaculate Jagoffs of Pittsburgh: Chapter 2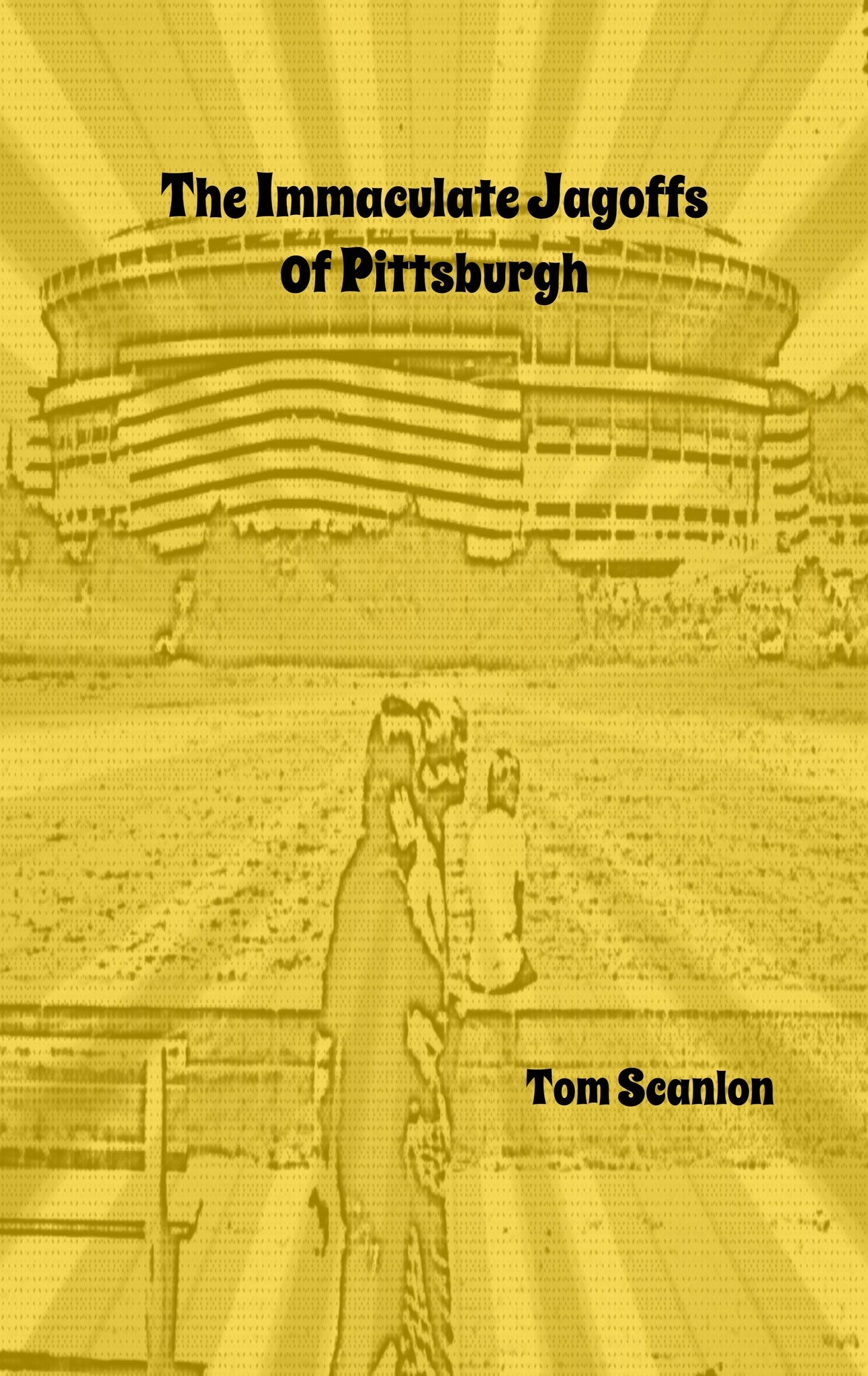 Click here for info on purchasing the book at Amazon.
The first chapter (click here to read it) of this comic novel set in 1972 Pittsburgh saw Clay pulling a pre-playoff game jag, much to the chagrin of Scan. In Chapter 2 (Pittsburghese-English glossary included, you'll likely need it), Clay and Scan head to their job at a parking lot near Three Rivers Stadium, where Clay has a showdown with his arch enemy...
FRANKIE McGLIDDY
"Shit the jagawffz here," Clay muttered, pullin in tha laht dahn awn Alagenni Ave an Shore Drive behindt tha Stadium Authority buildin.
Frank McGliddy–which most people callt Frankie er Gliddy–rollt dahn tha winda a his Buick an yelled, "Park way in tha back!"
Clay ignort im, jus kep drivin. "Like I don' know that," he muttert. He turnt ta Scan. "Bring me Playboyz an Clark barz n Zagnutz in prison if I take a jack upside that motherfrickerz greazy head taday," he said.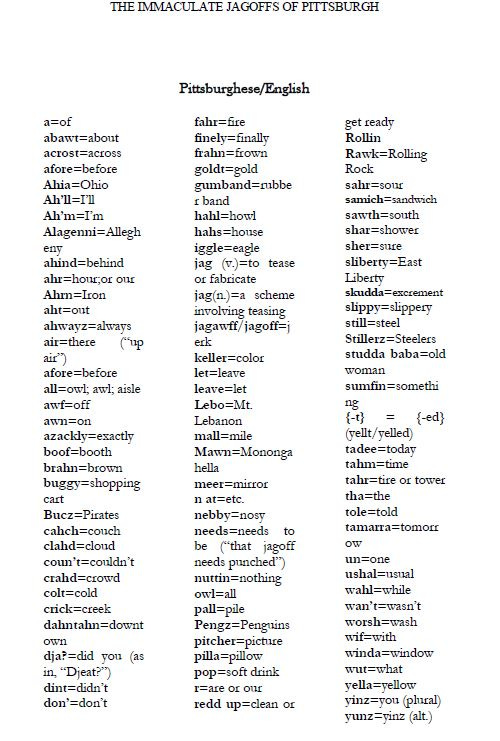 Scan buttoned up his Lebo varsity jacket–which he ha'nt wore since high school but fer some reason started wearin lately; now he wisht he woulda wore iz peacoat which wuz way warmer–but he dint wear it awn accounta Gail gaht it fer him an he felt guilty. But.
"Don' know wut you gaht against him, hez jus another Mckeez Rawkz fake mobster," Scan said, tho he knew there wuz azackly zero percent chance a convincin Clay a most thins, exspecially anythin havin ta do wif Frankie.
"An Muscle Cars an Mad magazines," Clay said, shuttin awf tha ignition.
They gaht aht tha Nova an started walk-skatin (two steps an slide, two steps an slide) through tha snowy lot tawardtz Frankie.
"If Big Nick wa'nt bangin iz daughter he'd be shinin shoes dahn Liberty Avenue," Clay said, in a normal tone a voice.
"Shutup he'll hear ya," Scan hisst, his head dahn.
"I don' give a …"
"Baht tahm yinz two jagawffs get dahn ere–now get this frickin laht shovelt," Frankie grahlt, from tha driverz seat a iz skudda-brahn (as Clay liket ta say) Buick. He had tha engine goin an it wuz coughin black smoke aht tha tailpipe. It spluttert as Frankie curset up a storm an pushed a button ta pop tha trunk. Clay grabbt tha shovelz aht tha trunk an handedt one ta Scan, hard-slammin tha trunk an callin in a mawk-polite voice, "Hey Frankie ya gaht black smoke comin aht tha pipe."
"Easy on tha trunk–and thanks fer tha newsflash frickin Bill Burnz," Frankie grumblt. "Aint ya supposed to be aht Viet Nam?" he addedt as he rollt up iz winda.
Shovelin an slidin away from tha Buick, Clay muttert, "I heardt when someone pisses in yer tank it can really frick shit up…" Scan shovelt tha other way, ignorin Clay an pushin tha wet, heavy snow–at lease 3 inches, even tho it wan't supposed to snow. "Thanks, Kudzma," he grumblt. At lease it wan't ice–yet…
When they finisht a half-hour later, Frankie rollt dahn iz winda an poppt tha trunk. Clay grabbt Scanz shovel and tosst both a them in the trunk an slammt it–shakin tha car.
"Jeezus H. Key-ris! Break that trunk Ah'll break yer face!" Frankie explodedt, stickin his head aht tha winda an strainin ta see Clay–who knew Gliddy woun't get his lazy ass aht tha warm car. He jus shruggt an slid a couple paces away.
"Come get tha bawx," Frankie said ta Scan, who grimacet an walkt over ta tha open winda. As soon as he gaht up tha car he smelt tha ushal Gliddy mix a Ole Spice, Newportz, Wild Turkey breaf an general stink blowin awff Frankie, who had on his ushal blue flannel shirt an battert Pirates cap from abaht 1960.
He started handin Scan tha red lock bawx wif 31 on it–but as soon as Scan grabbt it, Frankie held tight, forcin Scan ta look at iz face, which had a couple scabs from shavin cuts an a lit Newport stickin aht iz mahf; Scanz stomach turnt as he seen two big white hairz crawlin awt Gliddyz nostrilz like they wuz exscapin–he tried ta focus awn Frankiez big black sideburnz, which wuz mismatched and greazy but still less repulsive than tha red face wif tha smasht-in Nixon nose they goal posted.
"Pay attention a me," Frankie grahlt. "I know you ain' a frick-up like him: this is gonna be a big game, Big Nick wants five a car."
"Not a buck?" Scan axed.
"Five," Frankie said, then raised iz voice: "An Big Nick knows a-zackly how much that means, so don' let that skinny jagawff do no skimmin–"
"I ain' no skimmer!" Clay callt, from 20 yardz away; Scan turnt an caught a war look awn Clayz face.
"–er he'll fine yinz," Gliddy continyad, "an break yer skinny Greek draf-dahdgin legz!"
He shoved tha box at Scan. "Keep an eye on that dooch," Frankie said, Scan noddin an wincin at a blast a whiskeybreaf. "I gahtta take my dam daughter up er dam dance class an hit tha other lahtz–Ah'll be back fourth quarter fer yer bawx. Make sure ya lockit up inside tha boof."
He put tha punisht Buick in gear, then thought abaht it an preached some more: "An don' let them Caddy-drivin doctorz an lawyerz bitch abaht it an tryta…"
Frank McGliddy let loose wif a string a ignerant names fer Jewz an Blackz, as ushal. He stuck iz head aht an tole Clay, "I seen ya prowlin arahn tha Hill lookin fer that–" An he said sumfin expecially disgustin.
Clay thought abaht gettin his jack ahtta tha Nova but figgert against it and jus shot Frankie tha finger an turnt iz back awn im.
"Go suck a grenade dahn Sigh Gone, ya draf-dodgin Greek dooch!" Frankie yellt at im.
"Go pee on a tree!" Clay yellt back.
Frankie turn ta Scan. "What tha hell'd he say?"
"Go pee on a tree," Scan said.
"Thatz wut I thought–wut tha frickz that opposed ta mean?" Frankie demandedt.
Scan shruggt, backin away. "Just sumfin he sayz," Scan said.
"Well he can go piss–up a rice paddy!" Frankie hollert. Then, confidenshally, he said ta Scan, "Yer owl right–whyncha come work fer me dahn tha Earagashen Department. Five fifty a hour, you don' gahtta do skudda."
Scan shook iz head no. "Thankz–but I gaht school n at," he mumblt, thinkin he'd rather gargle wif Drano than work wif a buncha Frankie typez.
"Yea, school'll keep ya aht Nam," Fankie said. He startedt laughin which made him do some chainsmoker coughin, pointin iz greazy fingerz like a gun at Clay. "But not that motherfricker–I dropped a dime on iz ass. I gaht people comin after im gonna beat iz pretty-boy face in an take iz skinny ass ta Fort Dix then fly him first class ta Si Gone!"
Frankie wuz whippin izself in a frenzy, cranin his head aht tha winda an screamin at Clay: "That limpy bitch thinks Big Nick gonna protect him cause he caught a little bullet better think again–he ain' gaht his back since he screwed wif his 16 year ole niece!"
"Shez 18 an I dint screw er," Clay callt back, startin tawardz tha Buick; Scan seen veinz poppin aht Clayz neck. "You wanna get aht that shitbucket an say it ta my face?"
"I gaht better thinz ta do er I would," Frankie cackledt, pahrin up iz winda an peelin aht. He startedt racin dahn Alagenni Ave–only ta come ta a jarrin stop. Stahllt. They could hear him cursin an punchin iz steerin wheel. Clay hawlt laughin: "Tha's tha second-funnies thing I seen tadee!"
Scan hawkert an tole Clay what he did wif tha paper bag wuz stupid; Clay smirkedt an tole Scan he dint care what happened ta lil miss prissy quarterback an hopedt he broke iz ankle.
"I'm talkin abaht Blahr," Scan said, kickin at some ice. "He gaht shaht in Nam, ya know–you coulda give im a flashback."
Clay wuz in a fawl mood an said, "Tha's tha only reason they gaht him on tha team—hell, I gaht shaht, they mightz well put me on tha team, I'm faster n that Ahrish turd."
"He gaht shaht in tha war–not…," Scan said, but thought better an dint finish it.
Clay shruggt an said sumpin abaht not feelin sorry fer anyone dum enough ta go over there. Scan coun't resist a dig: "Speakin a which, they come lookin fer ya again yesterday."
Clay grinned. "Whydja think I wan't home? I know their shiftz n at."
"No–it wan't tha copz," Scan said. "It wuz that guy from tha draf board."
Clay hawkert. "That fat motherfrickin nerd. Whadja tell im?"
"Tole im you wuz up school n at."
Clay laught. "Nice. Wut he say?"
"Said you gahtta bring grades from this semester an registration from next dahn tha draft awffice an he knows ya flunkt aht anywayz."
"Yea yea, he can eat my dingleberriez," Clay said.
"Shit, Clay," Scan whined. "Owl ya gahtta do is–"
"Yea yea," Clay interrupted. "Stay in school, get good gradez–don' lek-sher me, you ain' my dad…"
Scan lookt arahn ta make sure they wuz alone; it wuz still dead, jus a few cars rollin by, headed fer tha lahtz wut gaht tailgatin.
"Hey, Clay," Scan said. "I know hez generally full a shit n at, but Frankie said he snitched you aht an they gaht bounty hunterz comin ta turn ya inta tha Army."
Clay robotically repeated his mantra Scan had heardt a thousan tahmz: He already gaht shaht, he ain' gettin shaht agin. They come after him, hez gonna take them pillz he gaht in iz gym bag an they can kiss iz dead ass…
"Anyway gimme tha boof key, I'm goin in tha shed–I'm freezin my nutz off aht here."
Scan silently handed Clay tha keyz an the lawkbox. Clay stompt over ta tha shed, a aluminum thingy barely biggern a phone boof; he unlockt tha padlock, threw tha cashbox dahn awn tha lil desk, sat on tha stool an slammt tha door shut. Scan dint look at im but could hear im a-rhythmically kickin at the door, like a little kid. Ya better watch aht, he wanted ta sing at Clay, ya better not paht…
Owl a sudden, tha door swungt open an Scan seen Clay start his stiff-legget jawg over ta tha Nova; when he come back, he had a bottle in one hand an his Keystone Oaks gym bag in tha other. Comin up ta Scan, he held tha bottle aht. "Wanna hit?"
Scan shook his head No. "More fer me," Clay cackledt.
He trotted back over tha shed an closedt it, but almos gently this tahm. Scan wuz a lil worried an kep peekin over; he cou'nt really see what Clay wuz doin but it dint look like he wuz takin pillz er nuttin.
Then he heardt a car honk–then another an another. Tha honkz startedt individual, then lahnd up in "here…we go...Stillerz…–here we go!" rhythm–which people were alsa yellin aht their windaz. Scan seen aht nowhere dozenz a carz: Caddiez an Chevy Vegaz an Chevellez an Impalaz an VW Beetlez an station wagonz an a Vette an Volvaz an Datsunz an Plymouth Dusterz an Pontiacz an Gremlinz an Oldz an Fordt after Fordt after Fordt….
"Clay! We gaht a rush!" he yellt.
"Be right there!" Clay yellt back. "An I gaht dibz on tha Vette."